License Plate Recognition: How smart IoT cameras revolutionize traffic
License Plate Recognition security camera (LPR) shows how fast technology is becoming smart and established, and this is just the beginning…
Jun 11, 2020 7:00:00 AM
6 min read
Automated License Plate Recognition is not new. Early technologies were already tested in the UK in the mid 1970s. However, it only became popular when new developments of cheaper and easier to use license plate recognition camera software came along in the 1990s.
Since then, LRP based on conventional smart video technology has remained limited to recording video data, which is then analyzed in the next step. Today, new technologies based on deep learning enable the automation of processes and much more efficient traffic management.
Networked cameras equipped with smart apps for License Plate Recognition can do much more than just capture video. These devices can also analyze video and trigger actions such as opening barriers at parking garage entrances or reporting suspicious vehicles on highways in one go.
Example: Recognizing license plates on fast moving cars
Source: FF Group
Powerful processors in security cameras and high-speed data transfer in IoT enable video processing straight in the devices. Based on real-time analytics, cameras are able to make informed decisions and trigger appropriate actions.
And smart cameras are not limited to just one function. License Plate Recognition can be combined with face or object recognition, for example, to recognize not only license plates but also car drivers and vehicle types.
How License Plate Recognition works
In LPR, videos or images of license plates are captured and processed by a series of algorithms that, simply put, convert images into text information step by step. Usually algorithms for the following functions are involved:
1. License plate localization: Determine which aspect of a vehicle image is the license plate.
2. Sizing and orientation: Adjust the angle of license plate images and calculate to optimal size.
3. Normalization: Adjust contrast and brightness of the captured license plate image.
4. Character segmentation: Locate separate alphanumeric characters on a license plate.
5. Optical character recognition (OCR): Translate captured image into alphanumeric text entry.
6. Syntactical and geometrical analysis: Verify text information with a specific rule set.
All these functions are executed simultaneously and in real-time, which speeds up video analysis in cameras dramatically. The text information extracted can then be checked against databases, for example, to identify vehicle owners or to detect stolen vehicles.
Today, countless app developers around the world are working on improving accuracy of license plate recognition, so that IoT cameras deliver first-class results even when cars are far away, driving in the dark or at high speed.
We are proud that more and more app developers offer their innovative products in our Application Store. Take a look and find the right app for your business!
Smart License Plate Recognition in action
Here are some examples from our partners, showing how License Plate Recognition can be used in many different ways.
Redefining parking management
Large commercial car parks and garages are complex systems with complex processes, in which many human resources have been involved in the past.
Thanks to digital technologies, it is now possible to align essential functions such as entry and exit control, free parking space navigation, payment and others and automate parking management in the best possible way.
Example: License Plate Recognition in a parking garage in Nuremberg, Germany
To make parking safer and more efficient for garage operators and their customers, German software company Peter Park brings together various digital services such as payment applications, electronic top-up systems and access control via License Plate Recognition on one parking management platform.
Parking managers can easily manage and monitor all these functions through an easy-to-use dashboard. This helps to make parking management processes more reliable and efficient.
Azena enables Peter Park to seamlessly integrate existing CCTV systems and third-party camera apps using our open OS for security cameras. One such app for License Plate Recognition is NumberOk Edge by our partner FF Group, that you can find and download in our Application Store.
Intelligent traffic monitoring
The growing traffic in cities and on motorways brings new challenges for traffic monitoring. Where the human eye used to observe the situation via video monitor, smart computer vision systems are now taking over this task. Smart IoT cameras play a decisive role here.
Example: Turning CCTV cameras into sophisticated traffic monitoring systems
Similar to Peter Park, the app from our partner Neurosoft enables IoT cameras to recognize vehicles by their license plates to support road safety and ITS systems. Neurosoft's main product line NeuroCar offers vehicle presence detection and License Plate Recognition, as well as car identification by manufacturer, model, and color (MMR).
Source: YouTube
Improving warehouse operations
Smart camera systems equipped with License Plate Recognition can also support entry and exit management by detecting incoming and outgoing trucks. In this way, warehouse managers can ensure that only authorized vehicles can enter, similar, as in the parking garage example above. Smart camera systems make it possible to automate and accelerate the processing of vehicles with a minimum of human resources.
Example: Streamline access control with License Plate Recognition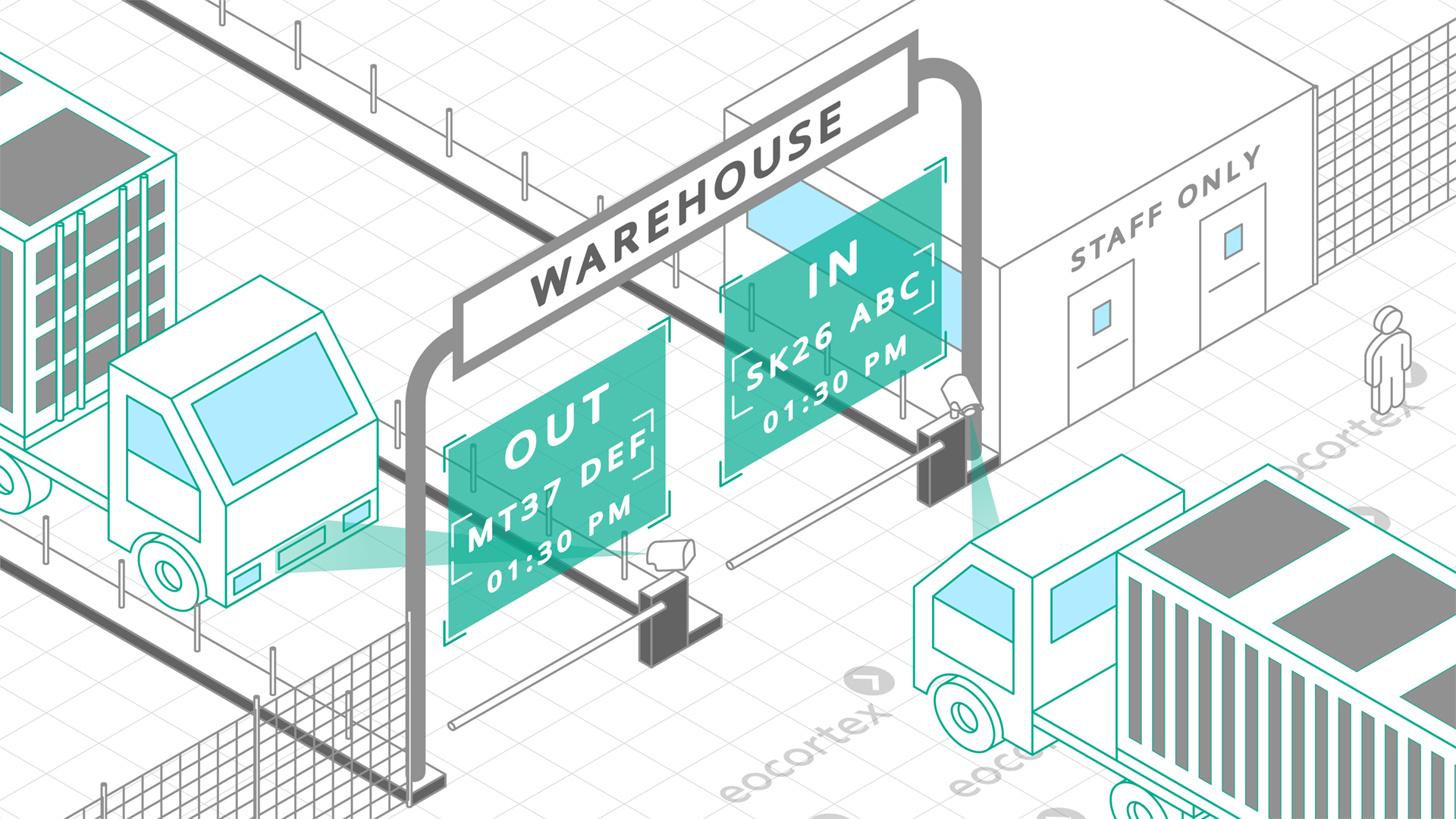 Source: eocortex.com
Get to know more about our traffic management solutions.
What is the future of License Plate Recognition?
There is no doubt that technologies will continue to develop rapidly. Traffic monitoring systems will become increasingly mobile, including camera systems that can recognize license plates and other vehicle features.
As hardware and software performance increases, the accuracy of image recognition will continue to improve. This will help support humans and save resources.
There are already exciting ways for users and integrators of camera systems to get more out of their devices. With our Application Store, we want to help you find the most innovative solutions for your business.
---
Worth reading: You will be surprised how public transport looks like in the AI decade
---
Take a minute and browse through our Application Store.